Restoration of George Borrow's Grave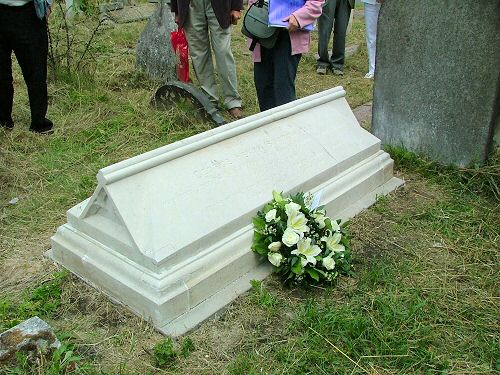 The George Borrow Trust is pleased and proud to report that after years of negotiation with the authorities it has been able to organize and pay in full for the restoration of George Borrow's grave in Brompton Cemetery, London. His grave was last restored in 1947 and was in very poor condition. The George Borrow Society held a meeting at the Cemetery on 25 July 2009, and had a simple ceremony beside the now refulgent grave, involving brief readings from Borrow and the laying of a wreath to commemorate the restoration. 26 July was the 128th anniversary of Borrow's death.
Further detail on this will be available in the forthcoming George Borrow Bulletin, Autumn 2009, published by the George Borrow Society.
Bearing in mind the importance of Mousehold Heath, Norwich, in Borrow's early life as reflected in Lavengro, the Trust also, the same weekend, sponsored performances by Kemp's Men, a group of Morris Dancers, as part of 'Mad about Mousehold', a celebration put on by the Mousehold Defenders.